What's On
There's always something to do at The Monty. 
Don't Miss NEW YEARS EVE here at the Montmorency Eltham RSL featuring INXSIVE as our live band performing all your favourite INXS hits and more! 
Premium finger food will be served throughout the night and our upstairs bar will be open until late.
To secure your NYE tickets, head to the link below through try booking to book.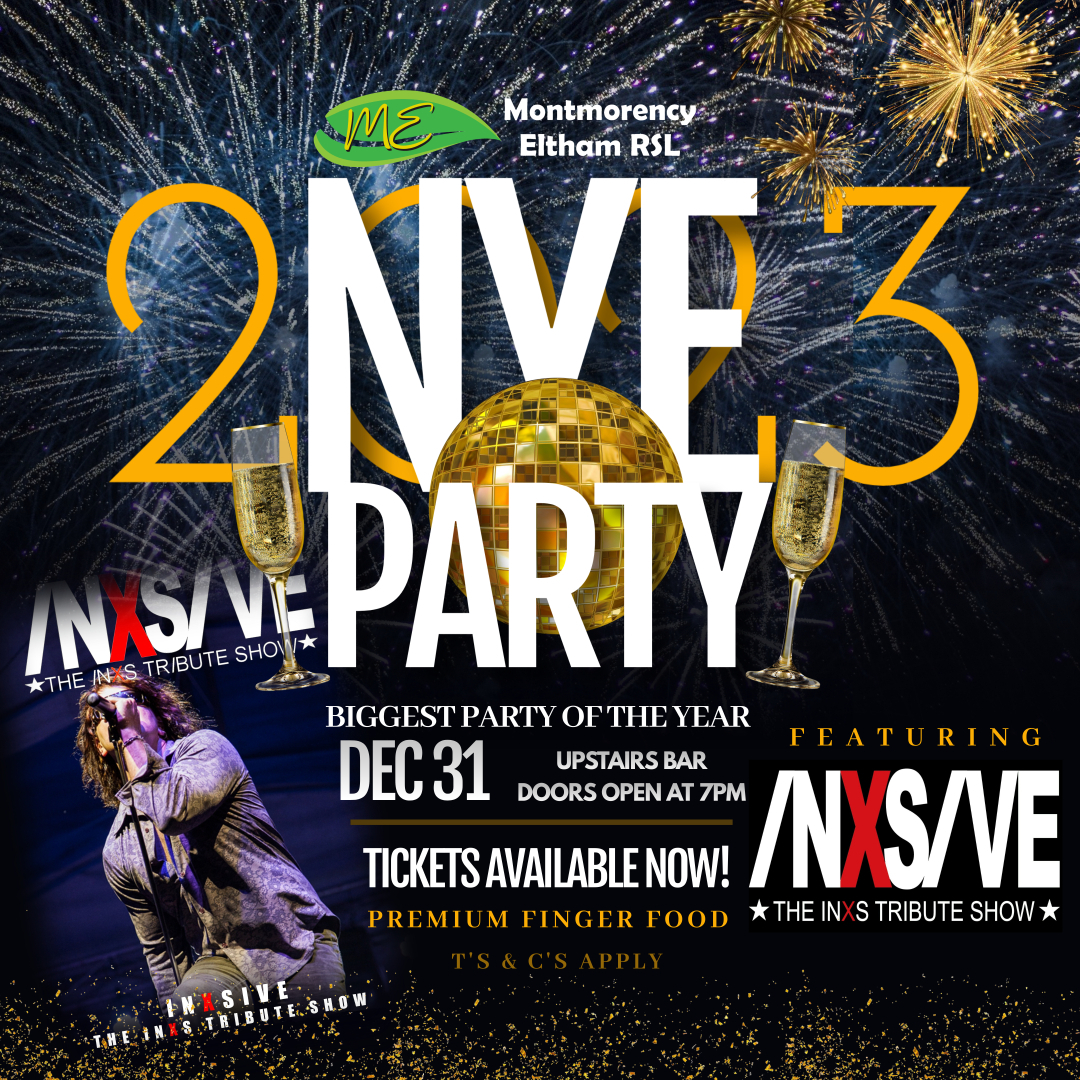 Please follow our facebook page for all our latest events happening at the Montmorency Eltham RSL
Mondays
Monty Poker
Held in the Member's Bar. Prizes awarded to top 3 players left on the final table.
Kicks off at 7.30pm.
Tuesdays
BINGO at the mont!
Starts 10am-12pm. Held upstairs in our members bar.
Parma Night! Starts 5.30pm-8.30pm.
Trivia Night 7pm start!
Thursdays
Parma Night!
$24 Pot and Parma with 9 types of parmas to choose from. 
Starts at 5.30pm – 8.30pm
Fridays
Members draw jackpot
Golf club night raffles
Free bar snacks @ 6.00pm
Community Bus Every Hour from 4pm – 10pm.
Saturdays
Chappy's tipping competition
From the first Melbourne race until the last Melbourne Race. $5 entry fee – Prizes to be won on day.
Happy Hour 1pm-5pm
Community Bus Every Hour from 5pm -10pm.
New Monthly Bands
Follow us on our Facebook page for updates on who's playing at our venue.
Service Members Bi-Monthly Dinner
Promoting the ethos of the RSL for service Members and spouses. Starts at 6pm. Please check the dates down below. Bookings essential.
Last Wednesday of the Month
Morning Melodies from 10.30am -12pm held in our bistro with morning tea, lunch and special musical guests. Bookings are essential.
BINGO will finish up on the 12th December 2023 and restart on the 16th January 2024 at 10.30am.
Trivia with TriviaOz will end on the 5th December and start back on the 23rd January 2024 at 7.30pm.
Need to get home safely?
Our Community Bus runs every Friday 4pm – 10pm and Saturday 5pm – 10pm.
Please call us to book your trip.